The flashback feature of user activity in the Spotify app throughout the year, called Spotify Wrapped, appears to have inspired several platforms to offer a similar feature.
Following in the footsteps of YouTube Music, it is now the turn of Facebook and Instagram to introduce features akin to "Year in Review."
Users will be able to see the "Year Together" column in the Facebook application, where Facebook will summarize a number of things or user activities on the platform that Facebook considers important throughout 2021.

In the timeline or feed view, this Year Together column will be visible. By selecting the "share" option, users can choose to share these priceless moments.
A similar tool, known as "2021 Playback," is also available on Instagram. Alexandru Voica, a Meta employee, unveiled the Instagram 2021 Playback feature on Twitter.
Users will be able to find Instagram 2021 Playback in the main view of their Instagram Feed timeline. There, users will see a type of display accompanied with a "View Playback" button, as shown in the image below.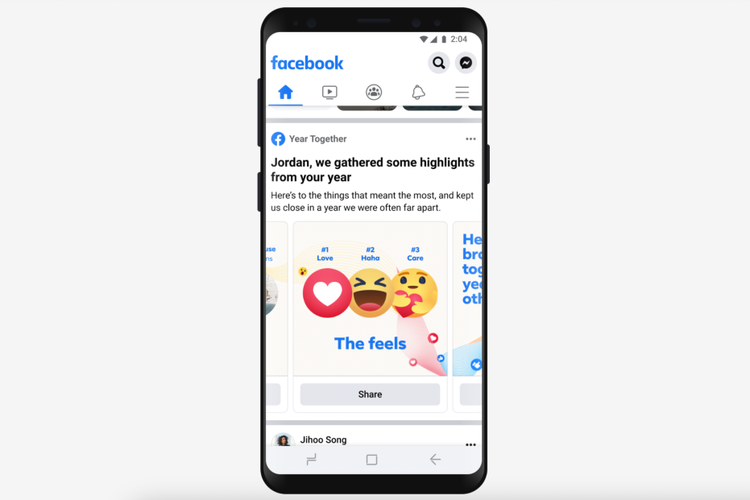 If the button is pressed, Instagram will select and summarize a handful of Instagram Stories posts from individuals they believe are interesting.
Users can, however, choose their own moments that reflect their 2021 to be flashbacks, up to ten Instagram Stories postings.
Following that, individuals can share their own Instagram flashbacks with other users. This year-in-review of user moments reminds us of the habit of publishing the top nine Instagram photographs with the highest likes (top nine), also known as the "Best Nine."
It should be noted that the 2021 Playback function on Instagram can only be used if the user has posted at least three Instagram Stories posts in 2021 and has enabled the stories archive feature.
The Facebook Year Together and Instagram "2021Playback" features went live today and will be available for the next few weeks on Facebook and Instagram.
Some Canadian Instagram users have discovered the "2021 Playback" feature on their feed. Users who have not been able to locate these two features appear to need to be patient for a short period of time. Because features like this are typically disseminated in stages on Facebook and Instagram.